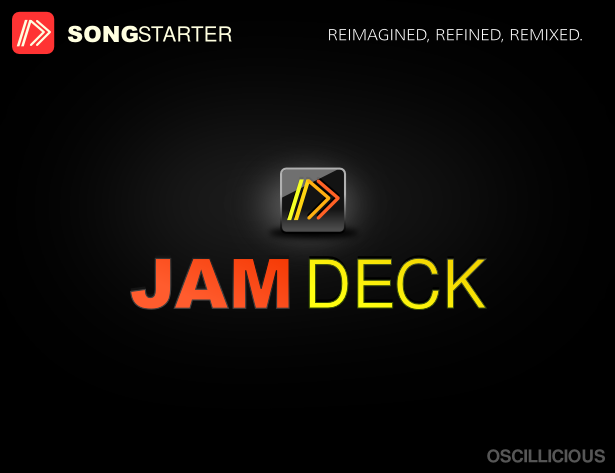 We're pleased to announce that a new, major update to SongStarter is now available. We've made many improvements to SongStarter and are continuing to shape the entire experience to make it an even better environment for songwriting.
As part of this new release, we've given SongStarter a fresh new look and a new name that better fits where we'll be taking it in the future: JamDeck.
JamDeck is SongStarter remixed, refined, and evolved.
It's the SongStarter you know and love, the songwriting environment that gets you creating and capturing music, but is even more refined now. JamDeck 1.1 is available today as free upgrade for all SongStarter owners.
Visit the new JamDeck website today for more information.
New in JamDeck 1.1:
A Redesigned User Interface
The new, sleek user interface drops you right into the Jam Setup screen to streamline startup even further.
New Instrument Browser
Includes Categories, allowing faster access to pianos, orchestral instruments, etc.
New Instruments
Since SongStarter 1.0, we've continued to add new instruments with every release, and JamDeck 1.1 is no different. New instruments in JamDeck 1.1 include Tack Piano, Harp, Jazz Guitar, Nylon Atmosphere, Sweep Pad, Piccolo, Rock Organ, Synth Bass, Synth Strings, Sweep Pad.
Drum Kits
We've added 5 drum kits, so you can now make beats with JamDeck. Laying down a quick beat and throwing a few instrument tracks over top has never been easier. (And with the Freestyle Recorder, you can lay down a beat without even picking a tempo.)
New Drum Loops
We've doubled the number of drum loops available, bringing the total to 29. The new beats are extremely fresh.
Mastering Presets
We've built on the multi-band compressor we introduced in SongStarter 1.0.2 and added more DSP modules to create three simple, but effective mastering presets that keep things simple, but enhance the overall sound of your jams.
Loop Recorder Erase
A new "Erase" button for the loop recorder allows you to clear specific sections of a loop, great for fixing mistakes. Simply hold down the erase button when you hear the section you want to clear, and it gets swept away.
Transport Controls
Pause and rewind buttons have been added for basic transport control.
MIDI Sustain Pedal Support
Most of the pianos and some of the other sampled instruments now support MIDI sustain pedals. These MIDI CC messages are also captured by the Loop Recorder and exported.
More Soundcard Options 
The preferences dialog got a bit of an upgrade as well, adding an API filter and buffer size (latency) setting for advanced users. JamDeck 1.1 also has improved compatibility with ASIO recording devices.
Improved UI Performance
Users with slower computers will notice animations are a bit smoother in this release.
Bug Fixes 
Over a dozen bugs including:
Fixed a bug saving muted loops.
Fixed a bug with increased capture latency after changing recording devices.
Fixed a rare crash when switching sampled instruments while playing.
Tweaked the volume of a few slightly unbalanced instruments.