We're pleased to announce the release of Analog Extracts, the first sample pack from Oscillicious!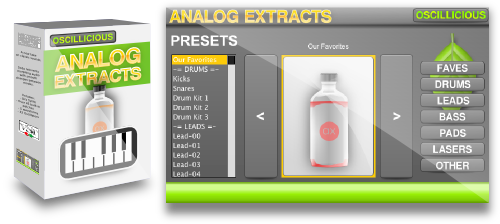 This sample pack contains a fantastic collection of over 200 brand new sounds designed with a scary-expensive Buchla analog modular synthesizer. The pack includes synth leads, basses, and some grimy pad sounds from outer space, along with a selection of analog drums and laser sounds.
What makes Analog Extracts special?
First, these sounds are something else. Our sound designers Thor Kell and Dan Godlovitch did a stellar job at creating a collection of new analog sounds that at times grimy and robotic, yet alive and energetic. Here's a set of demo songs showcasing some of the samples:
Oscillicious Analog Extracts Demos by Oscillicious
Second, the sample pack comes with a bonus VST and Audio Units plugin that puts all the samples right at your fingertips so you don't have to fumble around mapping them into your DAW's sampler, and it doesn't matter which host you're using.
Check out the Analog Extracts product page for more information or head over to the Oscillicious Online Shop to pick up a copy instantly by digital download.