Here's a quick sneak peak at our next product: Analog Extracts.

Analog Extracts is a sample pack consisting of over 200 analog modular synth sounds. Our sound designers were lucky enough to get their hands on a very expensive analog modular synth, and managed to squeeze some incredibly unique and original sounds out of it.
The sounds we captured are pure analog waveforms, each with its own unique character. They're different. The laser sounds are especially unlike anything you've heard before, and we think these'll work great as accents and buildups in a range of electronic music.
Also included in the sample pack will be a number of synth leads, bass samples, and pads, along with an assortment of original analog drum sounds.
Analog Extracts Demo 1 by Oscillicious
It gets even better…
To take things even further, we wanted to make it as easy as possible to use these samples. This collection of analog modular synth samples could stand on its own as a product, but as musicians ourselves, we think digging through folders full of samples when you're trying to write a track can be a bit of a chore.
To solve that, many other companies bundle presets for certain samplers like EXS-24 or Kontakt with their sample packs, so you can load up different banks quickly. The problem with this approach is that they assume you own one of these other (expensive) products. This only really benefits some users. As an alternative, other companies choose to license a sampler like the Kontakt Player to bundle with their sample packs, but it costs big bucks to do so and dramatically increases the cost to you, the musician.
Both of these approaches have big downsides, so we decided to do it our own way. To make Analog Extracts even better, we wanted to provide something extra for all users without breaking the bank.
The Analog Extracts VST and AU Plug-In
To make it as convient and easy as possible to use these analog samples in your music, we've created our own custom mini-sampler plug-in specifically for Analog Extracts. This bonus plug-in contains a curated selection of drum kits for easy access, as well as presets that map each sample to the entire keyboard. The plug-in will be available in both 32-bit and 64-bit flavours for Windows and Mac OS X, and is even compatible with Windows 8 and Mountain Lion already!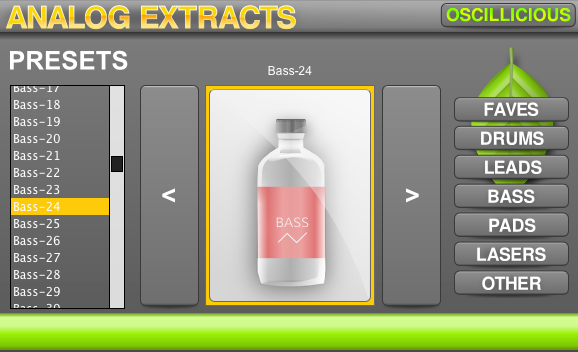 We're wrapping up beta testing and we hope to make Analog Extracts available in the coming weeks. Stay tuned!