I'm very pleased to announce the release of BeatCleaver 1.3.0, a major update to our beat slicing and music sampling software!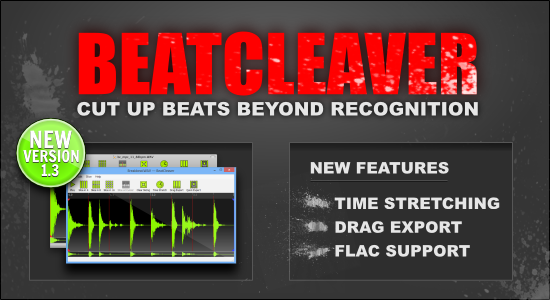 What's New in BeatCleaver 1.3.0?
Time Stretching
As we teased earlier in our Time Stretching Preview, BeatCleaver now has a state-of-the-art time stretching engine so you can warp your samples to match a different tempo or change their pitch. What we really like about this particular time stretching engine is that it does a great job at preserving transients, or the quick onset of musical events. In other words, it keeps your drums punchy even when they're stretched, but also works to better preserve the character of harmonic instruments like pianos too. Try out the new time stretching feature and let us know what you think!
Drag Export
To make the sampling workflow even faster, BeatCleaver now has a new Drag Export mode that allows you to drag slices right out of the application and into a folder, your desktop, or even right into a DAW.
FLAC Support
Due to popular demand, BeatCleaver can now read FLAC audio files for chopping. The FLAC audio file format uses "lossless" compression, meaning it's a 100% perfect replica (just like WAVE) except that it offers substantially smaller files. Because of these advantages, FLAC has become the format of choice for vinyl rips and we're excited that BeatCleaver can now be used on even more sampling material.
On-the-Fly Chopping
Last but not least, we've added a new Slice at Cursor button to BeatCleaver (with "S" as a shortcut key) that allows you to insert slice points during playback directly at the current playback position. In other words, you can chop a sample on-the-fly as it's playing just by tapping the S key, cutting slices as you go along.
Other Changes
Here's a more detailed changelog for BeatCleaver 1.3.0:
New Rubber Band-powered time stretching engine
Added FLAC file reading support – Even supports 24-bit FLAC files.
Added Drag Export mode, enabling the dragging of slices right out of BeatCleaver.
Added "Slice at Cursor" button for on-the-fly chopping.
New resampling engine
Allow WASAPI Shared Mode now, so BeatCleaver doesn't hog your soundcard when using WASAPI.
Added a full BeatCleaver User Manual

Fixed several crashes

Added configurable bit depth when saving WAVE files, in the preferences. (Can now save 8, 16, 24, and 32-bit WAVE files.)
Fixed the tooltips in the toolbar
If you haven't updated BeatCleaver since 1.2.0, you might have missed some of these other changes we recently made:
Full undo/redo support

A big boost to performance and smoothness.
The ability to slide a loop around by dragging it in the toolbar
The ability to loop over multiple slices by holding shift and clicking another spot on the the loop bar.
Get BeatCleaver 1.3
New to BeatCleaver? A free trial for Windows and Mac is available on our downloads page.
Existing Customers: BeatCleaver 1.3.0 is a free update, and you can grab it by hitting the download links in their original registration email or by visiting the bottom of our downloads page.