It's with great excitement that I get to unveil the newest creation from Oscillicious, SongStarter!
SongStarter is a "music brainstorming environment", built around a live looping workflow. It's designed to help you jam out ideas as quickly as possible and build them into up into melodies. When you're done layering up the heart of a great song, you can drag and drop MIDI export your tune into your DAW and continue producing it with the workflow you've already mastered.
SongStarter is FREE during beta, so download it now!
You begin in SongStarter by picking a beat and a tempo, and then can rapidly build up a melody using the collection of 21 built-in instruments. The instruments we've got fall into three categories:
Jam Essentials: A collection of sampled instruments with character, covering a range of sounds, from the Dusty Piano to the old school Cruise synth.
SodaSynth: Seven of our favorite SodaSynth presets for your jamming pleasure, providing classic, clean synth sounds.
Analog Extracts: Rounding out the collection is 5 sampled instruments created from our analog synth sample pack, providing quirky synth sounds taken from a legendary analog modular synthesizer.
We've tried to make SongStarter as easy as possible jam with, and we think you'll have a lot of fun with it. With any luck, it might just help you come up with your next big hit.
Check it out, here's an unscripted jam session I had from earlier today with SongStarter:
Lastly, in addition to the live looping jam workflow, SongStarter includes the Freestyle Recorder that we teased last week. The Freestyle Recorder is a different approach to starting a jam, which works by always recording what you're playing, and then automatically chopping it up into segments when you stop playing. You never have to take your hands off your MIDI keyboard.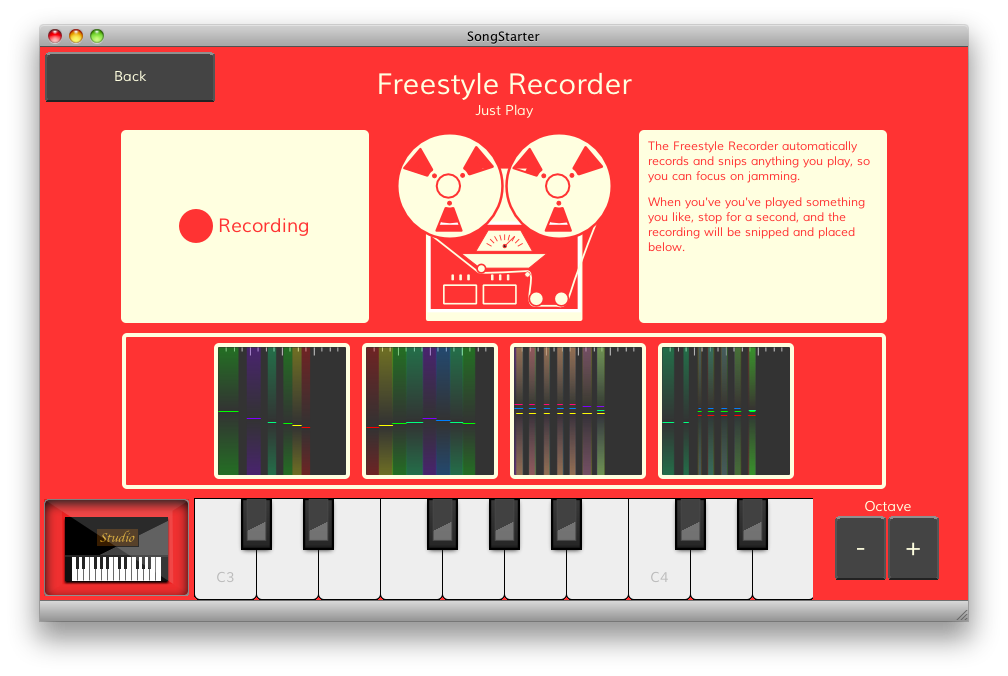 Once you've created some segments with the Freestyle Recorder, you can then create a seamless loop from one, just by tapping along with it. At the end, SongStarter can drop a beat right over your loop, and then throw it all over to the live looping jam workflow. (I find the Freestyle Recorder is really great for capturing ideas with huge amounts of swing or weird grooves.)
We're excited to finally get SongStarter into the hands of more musicians, and that's really what the free public beta is about. Oscillicious is fuelled by the feedback of musicians like yourself, and so we'd love to hear what you think about SongStarter.
Have you downloaded SongStarter or tried it in Chrome yet? What's your impression? Leave a comment below or email us directly! We'd love to hear from you.