We're pleased to announce the immediate release of BeatCleaver 1.4, a major update to our sampling audio editor and beat slicer!
BeatCleaver 1.4 is by far the biggest update we've ever made, and brings major improvements across the entire application. We're excited to finally share this new release with you and we hope it opens new creative possibilities for your music sampling and slicing workflow.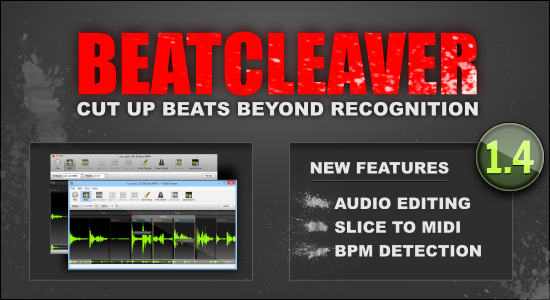 What's New in BeatCleaver 1.4?
Audio Editing with the RapidEdit™ Engine
BeatCleaver now has a powerful new Edit Mode that allows you to edit your recordings and beats like never before. Effects like fades are applied instantly, in real-time, without ever making you pause for rendering, and the results are visible immediately on the waveform. This fluid editing mode is powered by a brand new audio editing engine developed specifically for BeatCleaver, the RapidEdit™ engine. This is audio editing for the 21st century.
Remix Drum Loops with Movable Slices
With BeatCleaver 1.4, you can now rearrange beats or samples after you chop them up using Edit Mode. Using the "Duplicate" effect, any slice can be freely dragged around to create endless variations on a sample or drum loop.
Automatic BPM Detection
Time-stretching is now even easier thanks to integrated BPM detection, which will automatically find the tempo of any loops or audio loaded into BeatCleaver. New tempo and pitch controls have been added directly to the main window to speed the time-stretching workflow as well.
Slice to MIDI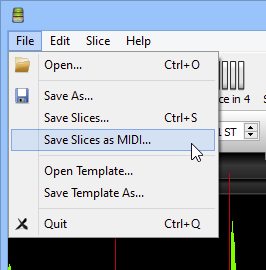 The timing of slices can now be exported to a MIDI file. This feature has been much requested, and is useful for extracting the groove a drum beat in order to construct it in a DAW or with a sampler, but with different sounds. You can also use this feature for any kind of rhythm extraction, not just for drum grooves. (In the menu, go to File->Save as MIDI…)
Full list of changes in BeatCleaver 1.4:
Audio Editing through "Edit Mode", with the following types of edits and effects available: Fade In, Fade Out, Normalize, Gain (Amplify), Reverse, Duplicate, and Cut/Copy/Paste.
Unlimited undo/redo for the audio editing capabilities.
Significant audio engine optimizations and performance improvements.
A new "Sample Properties" window, allowing you to adjust the original BPM of a sample and see some other file details.
Automatic BPM Detection
Pitch and Time Stretching toolbar for easier control
Slice to MIDI – Export the groove or rhythm of your slices as a MIDI file.
A New, Refreshed Look  – New icons and new transport bar graphics.
Slicing usability improvements – Shift-click to play, Ctrl-click (Command-Click on Mac) to slice.
Saved slice templates can now be dragged and dropped back onto the BeatCleaver window to apply them.
Redesigned offline time stretching window
About a dozen bugfixes.
Get BeatCleaver 1.4
New to BeatCleaver? A free trial of BeatCleaver 1.4 is available for download today. The limitations of the trial version are that there's no saving of audio or slice templates.
BeatCleaver 1.4 is available for purchase from the Oscillicious online shop as a digital download for $79 / €59 / £54.
Existing Customers: The registered version of BeatCleaver 1.4 is available as a free upgrade, and can be obtained from the bottom of the downloads page or by clicking the download link in your original registration email again.
About BeatCleaver
BeatCleaver is a sampling audio editor for slicing up drum loops, recording, and songs. Designed with the sampling workflow in mind, BeatCleaver makes it easy to chop and timestretch audio through an easy interface with smooth zooming for precision slicing. Now, version 1.4 adds new real-time audio editing capabilities for editing and applying effects on-the-fly, further enhancing the fluid sampling workflow.